Jabari Anderson
, class of 2013 is going for her MFA at MICA Mount Royal School of Art an interdisiplinary MFA program.
Morgan Jansen
, class of 2013, has been accepted at Starry Night Exposure program for her work at this years, Miami/Basel show at the Select Fair at the Catalina Hotel in Miami Beach this December 2013.
Brian Leeb
, class of 2013 has been named as an honorable mention in the 2013 International Sculpture Centers Outstanding Student Achievement in Contemporary Sculpture Award. This award is out of 414 students selected from 159 colleges around the world. The jurors were: Drew Goerlitz, Associate Professor of Sculpture at SUNY Plattsburgh, Elizabeth Neilson, Director of the Zabludowicz Collection, London, and Rein Triefeldt, Sculptor. Brian's work will be recognized in the October 2013 issue of Sculpture Magazine and on the
www.sculpture.org
website. Brian is the sixth student who has been accepted either as an honorable mention or in the show from the seven years the Fine Arts Department has been entering.
Brian was also in residence at Elsewhere, the living museum:
http://www.goelsewhere.org
Walter Matthews
, class of 2013, was accepted into Turps an art school in London that is run by painters, for painters. Here is the website for Turps:
http://www.art-agenda.com/shows/turps-banana-art-school/
This is an interview with Walter about his experience at Ringling:
http://www.youtube.com/watch?v=4HZukegenBw
Walter was the fine arts trustee scholar in 2012-13.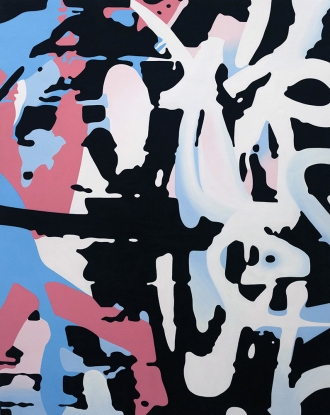 Anna Paul Breakthough 2012 Acrylic on Panel
Anna Paul
, 2013 graduate will be attending School of the Museum of Fine Arts, Tufts University in Boston, Mass for her MFA. You may see her work at
http://annarpaul.com/paintings
Blair Whiteford Painting 2012
Blair Whiteford
, 2013 graduate, won a Joan Mitchell Foundation Fellowship at the Vermont Studio Center. You may see Blair's work at this site:
http://blairwhiteford.com/